Digital transformation and data security dependency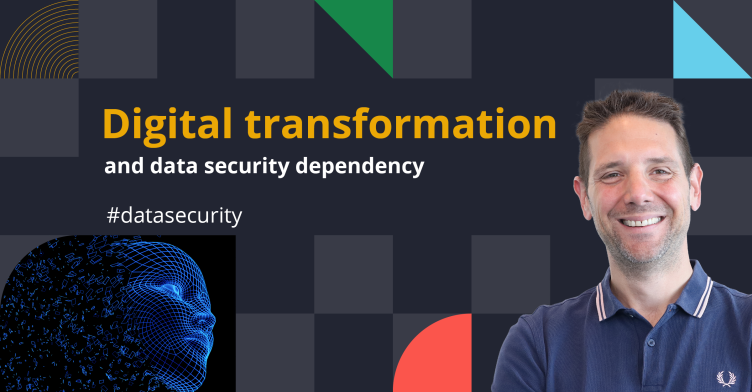 Digital transformation has become vital to the modern business. What was once purely a conceptual journey has become very real, fueled in particular by the Covid-19 pandemic. Technological advances help businesses become more efficient, productive, and safer. Data is vital to this progress. But with more data comes more risk and responsibility.
Businesses going through full digital transformation should take data security seriously from the start. Ignoring this area, or not handling it properly, could have a fatal impact on your brand reputation and can lead to customer loss that could take decades to recover from. Every year, millions of data records are stolen or leaked due to human error.
Digital gold
Data has proven to be a valuable commodity in today's customer-centric business landscape, where customers' expectations are constantly changing. Today's customer expects responsive, highly intuitive technology designed to instantly respond to their needs and key pain points, as well as providing a seamless experience across multiple platforms. Data provides the insights necessary to achieve this, so you can transform your business operations, and integrate automation and IoT into your business processes.
But to get there, businesses and organizations must integrate data privacy and protection into their digital transformation plan from the very start. They need to design for data privacy from the ground up.
Lack of effort
Businesses understand the importance of digital transformation — by 2023, budget allocations for the area are expected to have increased by over 50%. However, data security is often treated as an optional add-on and doesn't get the budget it deserves.
Every organization should aim for a unified framework that allows data usage throughout the organization, driving business processes and transactions, as well as differentiating customer insights to create value. All this must be achieved without damaging customer trust or brand reputation.
Privacy by design
We at Portera believe in privacy by design. Customer-centricity is as important to us as it is to you, suggesting that your business strategy is what guides our data security solutions. Privacy by design allows you to continually innovate while reducing the cyber-risks to your business-critical data.
Get in touch to learn more about Portera's portfolio and how we help companies like Danone, Unilever, and Kraft Heinz to become more data-driven while also securing privacy.