Personal
5 tips and tricks sailing with toddlers / babies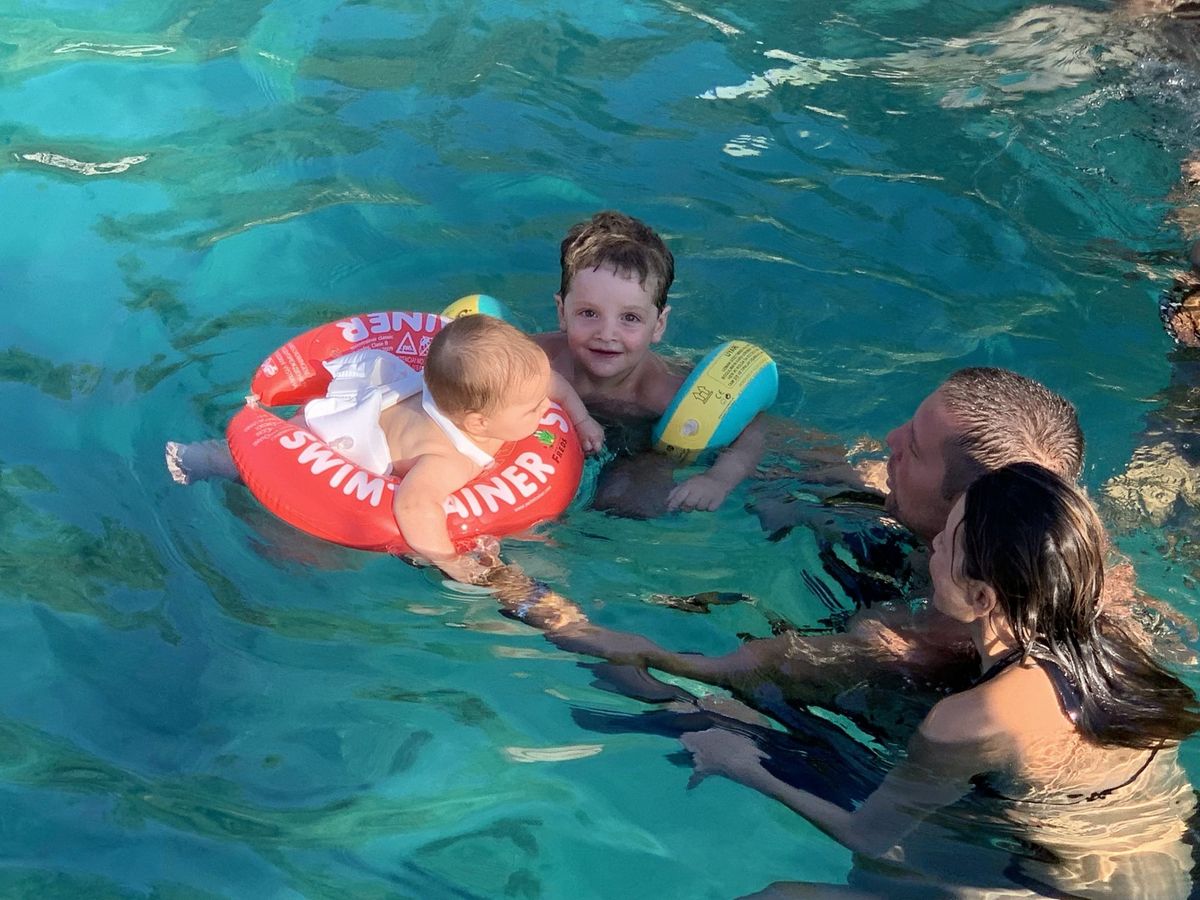 Your biggest moments of pleasure may become challenging when your family expands. Here are a couple of tips that will ease them for you.
My wife and I are sailors since youth, raced in various boats, starting from dinghies to open water yachts. Our only way of having a vacation is sailing all the time, we are lucky to be able to spend 6–8 weeks on the boat each year. In 2020, due to corona, we are not able to reach our boat which is moored in one of the best sailing locations, by the Hisaronu Bay, Turkey.
In 2016 our boy has arrived, following that in 2019 January we were lucky to have a girl this time. Never underestimating the joy that brought, we needed to adapt our sailing holidays to keep the safety and serenity.
Disclaimer: There will be links within this article for some of the things. None of the links are affiliate links and I intentionally used Amazon for all of them for the sake of simplicity. However I'm a strong believer of segregation of power hence please support your local dealer whilst buying.
1) Safety first
Of course, we should start with safety. The more you are in control of the safety measures, the more peace of mind you'll have when cruising, even when resting.
Buoyancy equipment: A decent piece of life vest is a must to wear whenever the boat is moving. Self exploding life vests are smaller in size which helps the toddler to move easier on the boat. We have the following.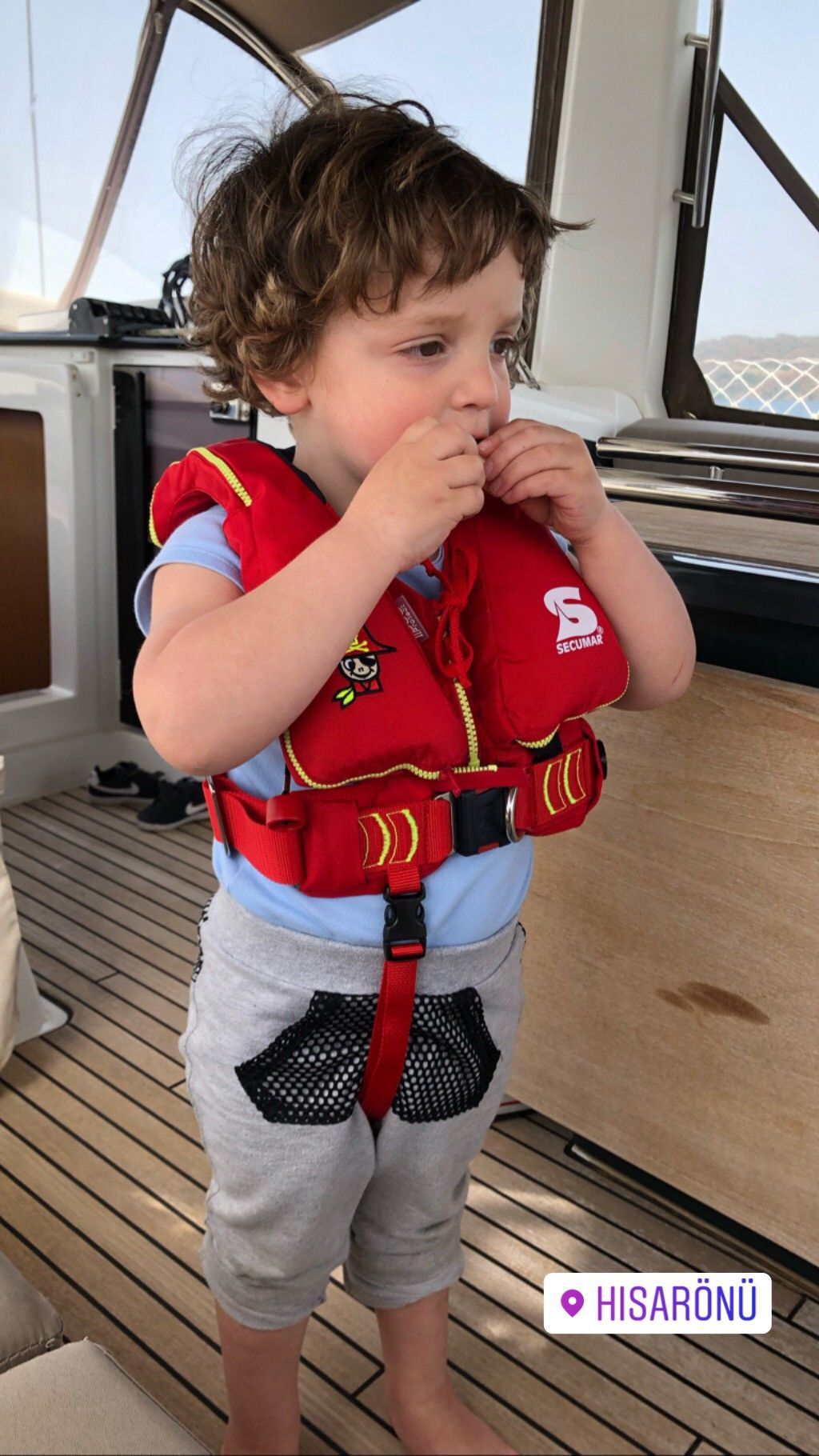 Lifevest
If you have a younger child, you definitely need to have a life vest with a head rest on to make sure when unwanted event happens, the baby safely floats with his/her face upwards.
Surely you need to keep an eye on the kids whenever they are moving, these equipment will definitely give you peace of mind that you require on the boat.
Water is not the only enemy whilst cruising. Also sun, can do a lot damage especially when cruising in the Mediterranean. When we talk about sun, protective sun cream is definitely an important element but please do not underestimate the use of hats, clothing with UV filter also. Choose a sun cream that is water proof, so that you do now have to renew whenever your kid plays with the water.
You can find what we choose to use here
2) Sleeping
Babies, sleep 3–4 times a day and toddlers usually up to two times a day. If you are reading this piece, I believe I don't need to explain how grumpy they can be if they miss a nap:)
Our experience with them is that they usually sleep better when the boot is moving. I believe the sound of the water splashing on the boats bottom and the movements help the kid to calm down sooner. On the other hand because of this movement, the utmost important item to have is a tent for the kids to sleep in. For the babies, a usual, simple tent that does not take too much space is useful, for the toddlers, some of the tents have straps that you can connect with the bed so that the tent becomes more robust.
Baby Sleep Tent that we use: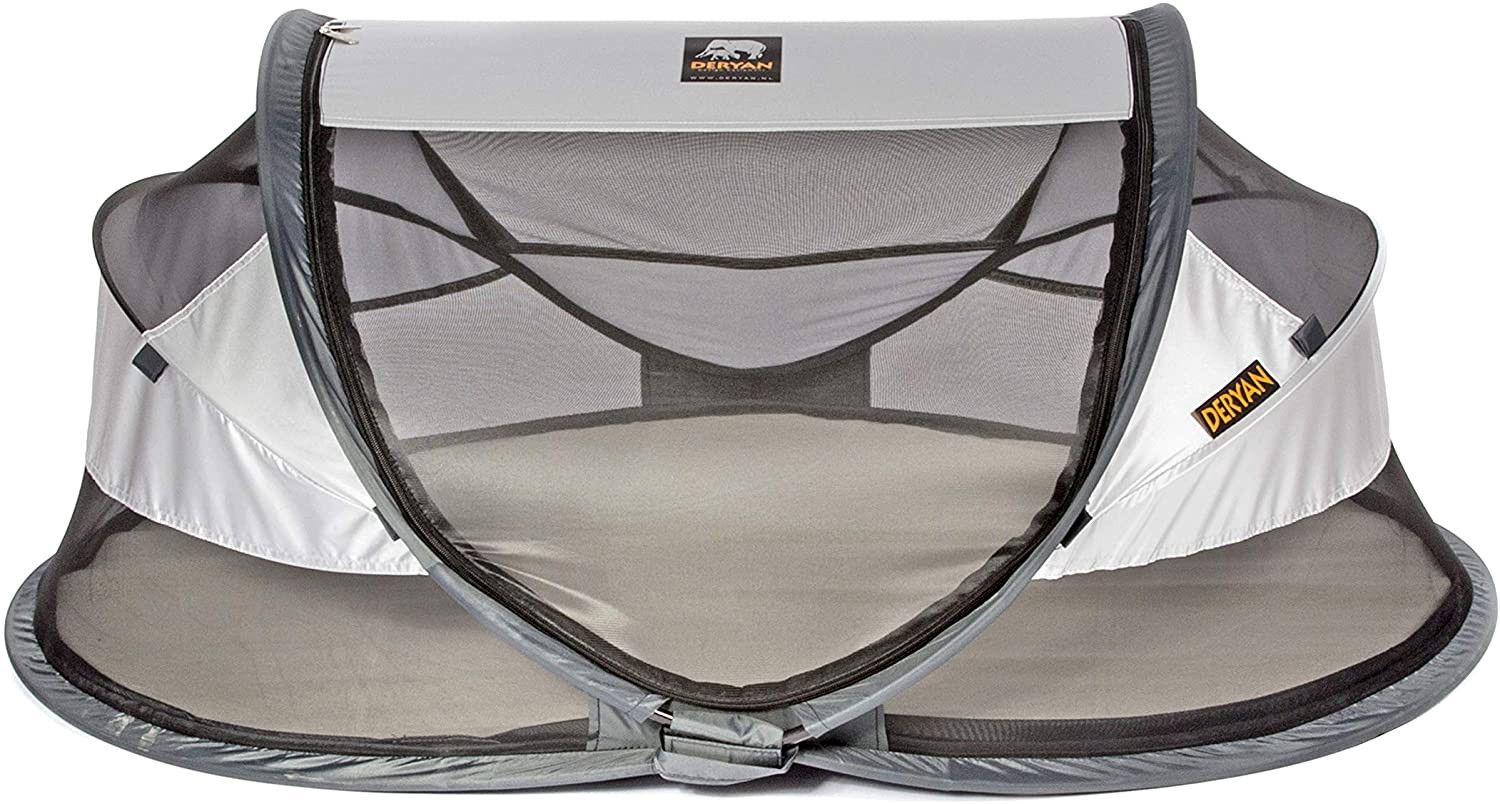 Foldable tent makes it easy to carry and store
The second important element is to have something to cool the cabin a bit. If you have an air condition fitted on the boat, that is very useful. Last year, it made our lives really easier during the month of August in the south coast of Turkey with temperatures reaching 35–38 degrees Celcius (95–100 degrees Fahrenheit). If the boat is not fitted with air-condition, you can also try to install 12 V ventilators in the cabins to have air flow. Please make sure that the protection in front of the ventilators are not wide enough for a kid to put his/her fingers and the blades should be plastic, not steel or so.
3) Keeping them entertained
To be totally open, sometimes I have the dilemma whether the boat life is good for babies / toddlers. On one hand, that is great that they get to see so much different places, cultures, have the chance to play endless with water, spending quality time with the family. On the other hand, a boot is never big enough for a kid to play in. They want to run, play, have friends. And on a boat, it is not always possible.
First of all, having a small pool is really handy. Kids love to play with water and it is not always possible or safe to jump in the sea especially during noon when the sun is glaring hot. Therefore, we have a small pool which we place under the shade (bimini) and then fill it with sea water. The kids love to play with it, freely making everything around it wet 🙂
One thing that helped us last year was having an inflatable stand up paddle. Depends on your choice, a canoe, a dinghy, a stand up paddle helps you to explore the bays with your kids and share the joy.
Toys are quite handy for sure when selected carefully. We always go for wooden toys as they are not quite easy to break and also they do less damage on surfaces when they fall. If you have your own boat, then you don't need to carry all of them. if you are chartering, buying a new toy from a local store will be interesting for the kids.
Making them work is also a great way to keep them entertained. They love it when they can be of any help.
Swimming is a good way to drain the energy however, it is not always enough for the toddlers usually because they rely on the buoyancy item to float and can not swim long distances. Therefore, every once in a while, it is important to moor in a bay where you can take the dingy to reach the land so that they can run.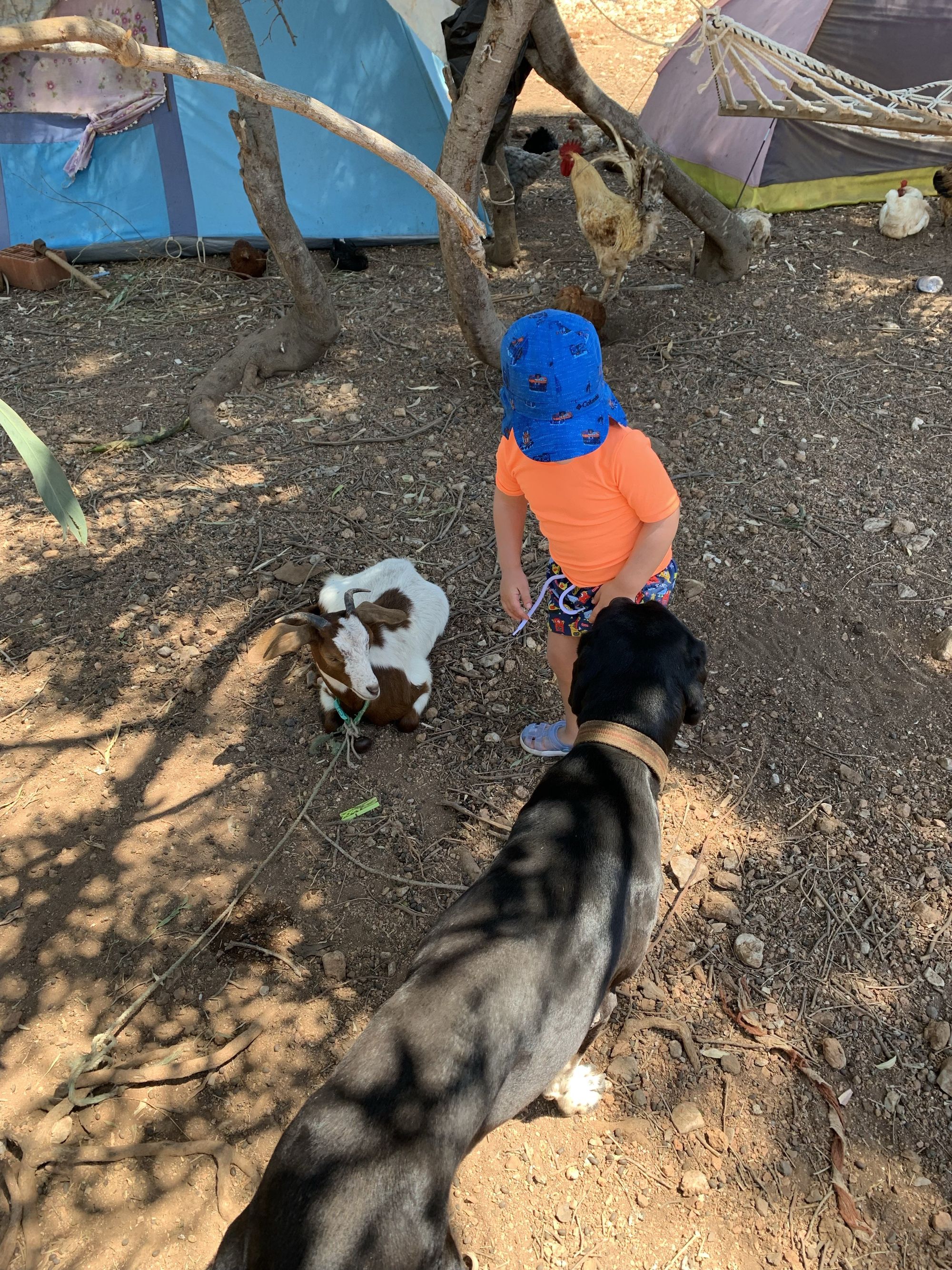 4) Nutrition
When it comes to healthy snacks and finger food, there are quite a few elements that makes or breaks your day 🙂 Besides the healthiness of the snack that you are going to choose, it should not leave stains, should be preserved well outside of the fridge.
If you are sailing in the Mediterranean, you are lucky with getting healthy and delicious snacks such as cucumber, paprikas, tomatoes and so on. Also, we go for musli and yoghurt, which becomes quite solid when prepared and it does not spill everywhere even when our 15 months old eats herself.
As mentioned above, since the options to burn energy is limited, feeding toddlers with high-calorie items does not turn out to be well. Our observation with our own kids tells us that they get more aggressive when they have too much energy which they cannot get rid of.
5) Health & Medicine
On the boat, at the end you are alone. That's why, you need to be prepared for some of the sicknesses or events.
Know the allergies of your family
Get an allergy test before you get on the boat. An allergy to bees can have really drastic results. Even the test results are negative, there might be some insects that is not checked on the test or you may be in a foreign country with different types of insects or plants. So be prepared! You can get advise from your medical doctor on what kind of medicine you need to have in case of severe allergy reactions.
I just wanted to inform you about the most important one, I'd advise you to discuss with your GP before taking any action.
Conclusion & Special Thanks
I'm writing this article during the corona times. I'd like to dedicate this article to the frontline workers in the healthcare, doctors, nurses, pharmacists, cleaning crews… If only one of you, has read this and I was able to create a smile on your face or bring hope imagining the next time you are going to set sail with your family, then please leave a note below.
I hope this has helped you for your next trip! Look forward to seeing you on the blue…
If you liked this post, please feel free to subscribe