Consumer
Going straight to the source: Why CPG businesses must make first-party data their digital priority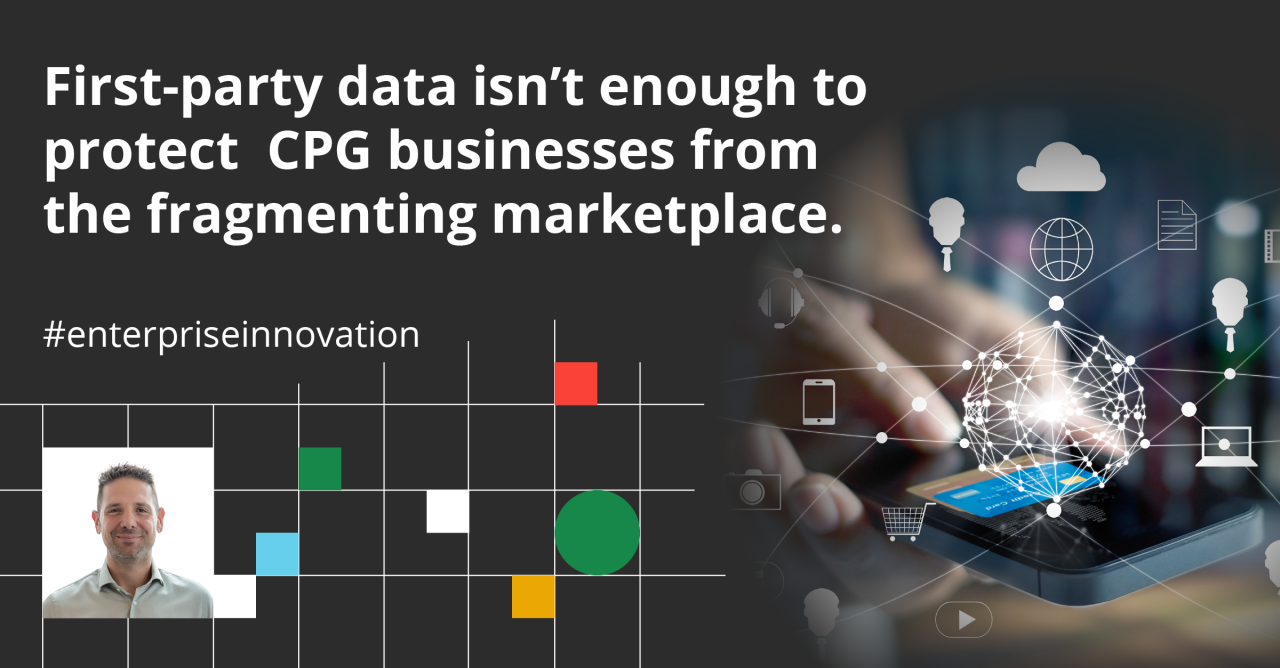 𝐁𝐮𝐬𝐢𝐧𝐞𝐬𝐬𝐞𝐬 𝐦𝐮𝐬𝐭 𝐝𝐞𝐩𝐥𝐨𝐲 𝐭𝐞𝐜𝐡𝐧𝐨𝐥𝐨𝐠𝐲 𝐚𝐧𝐝 𝐞𝐧𝐠𝐚𝐠𝐞𝐦𝐞𝐧𝐭 𝐬𝐭𝐫𝐚𝐭𝐞𝐠𝐢𝐞𝐬 𝐭𝐨 𝐜𝐨𝐥𝐥𝐞𝐜𝐭 𝐚𝐧𝐝 𝐛𝐮𝐢𝐥𝐝 𝐦𝐨𝐫𝐞 𝐟𝐢𝐫𝐬𝐭-𝐩𝐚𝐫𝐭𝐲 𝐝𝐚𝐭𝐚, 𝐰𝐢𝐭𝐡 𝐚𝐦𝐛𝐢𝐭𝐢𝐨𝐮𝐬 𝐚𝐮𝐝𝐢𝐞𝐧𝐜𝐞-𝐜𝐨𝐧𝐧𝐞𝐜𝐭𝐢𝐨𝐧 𝐭𝐚𝐫𝐠𝐞𝐭𝐬. 𝐅𝐢𝐫𝐬𝐭-𝐩𝐚𝐫𝐭𝐲 𝐝𝐚𝐭𝐚 𝐧𝐞𝐞𝐝𝐬 𝐭𝐨 𝐜𝐨𝐯𝐞𝐫 𝐦𝐨𝐫𝐞 𝐭𝐡𝐚𝐧 𝟕𝟓% 𝐨𝐟 𝐚 𝐜𝐨𝐦𝐩𝐚𝐧𝐲'𝐬 𝐜𝐮𝐬𝐭𝐨𝐦𝐞𝐫𝐬 𝐭𝐨 𝐬𝐮𝐜𝐜𝐞𝐬𝐬𝐟𝐮𝐥𝐥𝐲 𝐡𝐞𝐥𝐩 𝐭𝐨 𝐠𝐫𝐨𝐰 𝐫𝐞𝐚𝐜𝐡 𝐚𝐧𝐝 𝐬𝐮𝐬𝐭𝐚𝐢𝐧 𝐬𝐚𝐥𝐞𝐬.
First-party data is information a company collects directly from its customers. It was always a struggle for CPG companies to get hold of first-party data. However it is becoming even more crucial for them to grow their first-party data on their customers — the people who actually buy their products. They have strategies in place but need to set much higher targets and strengthen the commercial impact of first-party data at least ten-fold over the next five years. Today, most companies' first-party data isn't enough to protect them from the fragmenting marketplace.
Shoppers are increasingly buying groceries online, bringing opportunities to new marketplaces (e.g. JustEat, Amazon) and partners (e.g. Getir). This was turbo-charged by Covid. Pre-pandemic, e-commerce was growing at 9%; halfway through 2021 this figure stood at 37%. Grocery e-commerce penetration now stands at 11%, up from 3% pre-pandemic. Online sales are outpacing offline sales by double digits in countries like Holland, Spain, Italy, and the UK.
Fragmentation
But this opportunity could distract from the overarching headwind CPG brands are facing: the proliferation of channels and marketplaces, increased competition, and fragmentation of their customer base.
CPG businesses are simply unable to compete with e-commerce players, who themselves are struggling. E-commerce runs at an average 3.7% EBIT margin for established food retailers, with their e-commerce running at 0% margin at best. Stand-alone e-commerce for CPG businesses has no chance of becoming profitable without a significant shift away from price-based strategies.
The situation is the same in B2B CPG, where new entrants to the distributor (e.g. ankorstore) and wholesaler markets also fragment B2B models. This fragmentation means it is harder to attract and retain customers. No longer are the established market-makers kings (WalMart, Tesco, Carrefour, Albert Heijn). And no longer is courting these retailer/wholesaler relationships the primary sales objective. For now, CPG businesses need to go straight to the source and use technology to achieve the economies of scale that the retailers used to have.
Finding ROI
For many of the CPG businesses we work with, first-party data is only just becoming a key KPI. It has always been important, but conventional metrics such as share of voice and reach remained the key digital KPIs. We are glad to see this is changing. CPG businesses need to set ambitious targets on shopper first-party data — engaged, GDPR compliant, and addressable first-party data. The target: by 2025 CPG businesses should have 50% of all their shoppers in their addressable database.
Many businesses have already invested in marketing tech. The goal now is to drive business outcomes through the (re)configuring of this technology to drive specific marketing outcomes. In plain language, this means delivering a business return on their investment. And this is an industry-wide challenge, to draw actionable insights from data lakes, and overhaul out-of-date engagement strategies to deliver active audiences rather than audience accumulators. The goal is to curate highly engaged audiences instead of just gathering data from one-time engagements.
One of our clients invested millions of euros in a track-and-trace system used in anti-counterfeiting operations. We were able to redeploy that technology as part of a loyalty strategy, and the brand is now enjoying engagement with more than 25% of its customers. After just a year, we're well on the way to the 2025 target.